If you've already read this post and are just back to peruse the commenting, as I know some are prone to do, I'd encourage you to catch the
UPDATE
on your way down to the comments; it adds a little
je ne sais quoi
to the whole affair . . .
When it comes to my family, I'm fiercely defensive.
Fierce to the point of ferocious. Like a tiger. Or a lion. But not a lioness. They don't look as scary without the mane, and I'm definitely the scarier cat.
Allow me to provide evidence.
Whitney wrote
this post.
A humorous post on how her son, Jack, misbehaved (rather badly), such that Whit and Ethan felt compelled to frighten him into remorse. (For context--and entertainment--I recommend you read the post; won't take you but a minute.)
Whit knows when she writes something like this she's going to get at least one comment or email from some reader reprimanding her for being something akin to a rotten mom.
Sho' nuff, for here's what I found on that post this morning: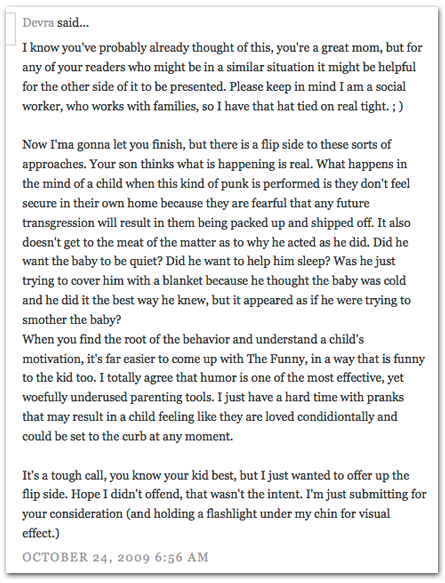 And here was my response: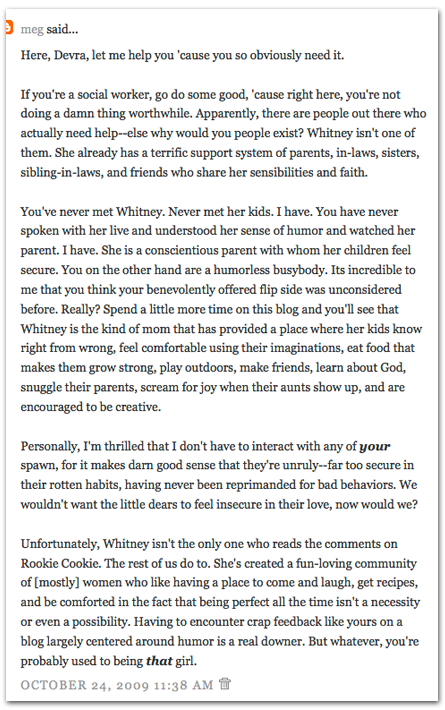 (Please forgive the few out-of-character typos; when I leave comments while on my iPhone, the droppings are always a tad wonky.)
Harsh on my part?
Oh, sure. Over the top? Very likely. Was Devra pretty stupid? In my opinion, yes. I know a social worker or two. And I even like them. (You two know who you are, don't you?) And I am quite sure they don't wander around the Internet tossing out instructive comments to people they don't know.
Do you want to cross me or mine?
"Righteous" intentions be damned: probably you don't.
Because
Remarks from Sparks
is more suited for controversy than my sister's
food
blog, she put an update on
the post,
deleted the comments from Devra and me along with the subsequent ones--including one from our
Rabid
, and closed off further commenting.
But, lucky you, I took screen shots
of the comments now eradicated and have posted them here for your entertainment and tasty, calorie-free snacking (check it out: snacks courtesy of Rookie Cookie). You should know that I'm not doing this against Whit's will; she knows and encouraged it. Because, like I said, her blog is about what to eat. Mine's the one built on opining.
Comment immediately following my response to Devra:
My response to Squid: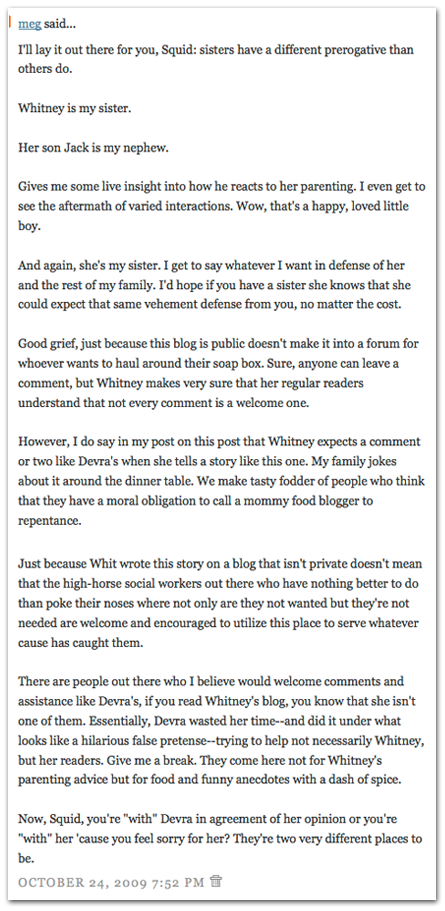 And Rabid's helpful analogy, which, of course, I love: