My boyfriend and I have a 100% marital fail rate between us.
So, feeling very qualified, I enlisted him to help me with a list of 50 marital tips.
I made a poster of our results: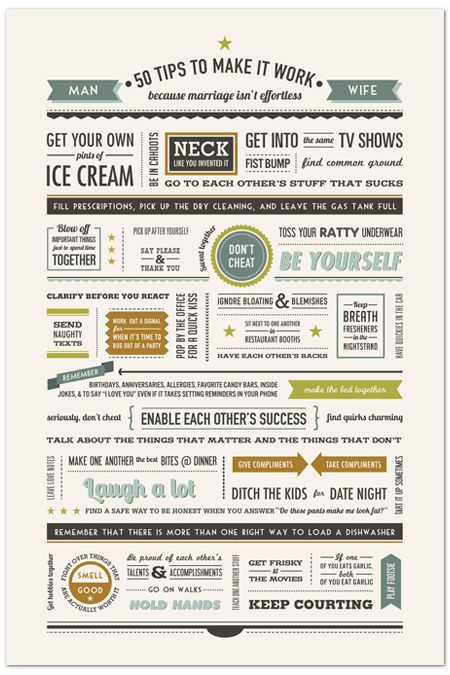 Shortly after their honeymoon,
Evangeline
posted on Facebook some of the marriage advice that she and Andrew got at
their wedding
. That got me thinking about what I'd recommend, given that
I am really good at being married and haven't ever been divorced.
Oh, wait. It's the other way around. If you want advice on marriage, don't come to me. I suck at it. However, the 50 tips that Jim and I came up at least
verge
on terrific.
When all the affair garbage went down last year, it killed my creativity. Slaughtered it. Couldn't write. Couldn't design. I had nothin'. Gradually though,
we do get better
, and those parts of myself have started to come back. I hate that it takes time, but at least it happens.
I like that my first real design project since my marriage fell apart is about how to have a successful marriage.
It makes no sense. And it does.
Poster available on Imagekind in a few color variations.
If you need a gay version—Wife+Wife or Man+Man—instead of Man+Wife, email me (meganromo@gmail.com) and I'll post it. Those versions are not up now because I'm lazy.